Fabulous Fit® Studio Dress Form - Women's Half Legs (Global Standard Edition)
Fabulous Fit® Studio Dress Form - Women's Half Legs (Global Standard Edition)
Designed to impress, the Global Standard Dress Form line is built to perform. Three distinct and fully pinnable torso layers make this form a pleasure to work with. The Women's Half Legs version is perfect for tops, dresses and gowns - and even pants and undergarments. A choice of solid metal finial/ rolling base system plus removable shoulders are included.
Built for Design
The Global Standard Dress Form is our latest collection designed from the top down to both perform and impress. This dress forms is built from three distinct layers - a hard foam inner core (for its durable shape) which is covered by a layer of soft foam (for realistic body feel) and then wrapped in an outer layer of elegant canvas. The entire dress form is fully pinnable and is created for professional fashion design use. The base and finial (neck cap) are solid metal and come in three stunning colors. The dress form height is adjustable through the connector (on the underside of the form) and telescoping poles. The base pedal is for aesthetics and is not functional.
The Women's Half Leg version is perfect for tops, dresses and gowns. With half leg design and the pole connecting through the leg (rather than through the center), they can even be used with pants and undergarments. Questions? See the FAQ section below.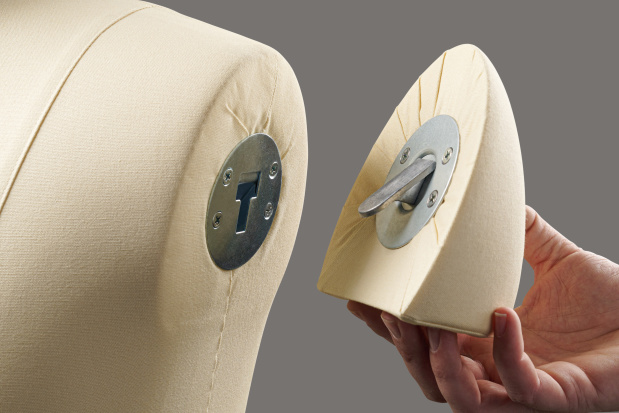 Studio Dress Form Measurements (Global Standard Edition)
(show measurement diagram)
(show measurement chart)
|
| | | | | | | | | | | |
| --- | --- | --- | --- | --- | --- | --- | --- | --- | --- | --- |
| Size (US) | 0 | 2 | 4 | 6 | 8 | 10 | 12 | 14 | 16 | 18 |
| Neck Base | 13.5 | 13.75 | 14 | 14.25 | 14.5 | 14.75 | 15 | 15.25 | 15.5 | 16 |
| Across Shoulder | 14.5 | 14.75 | 15 | 15.25 | 15.5 | 15.75 | 16 | 16.25 | 15 | 15.5 |
| Bust | 32 | 33.5 | 34.5 | 35.5 | 36.5 | 38 | 39.5 | 41 | 43 | 45 |
| HPS to Apex | 9.375 | 9.5 | 10 | 10.125 | 10.375 | 10.75 | 11.125 | 11.325 | 11.875 | 12.125 |
| Waist | 24 | 25 | 26.125 | 27.25 | 28.5 | 29.75 | 31.25 | 32.75 | 36 | 38 |
| CF Neck to Waist | 13.5 | 13.75 | 14 | 14.25 | 14.5 | 14.75 | 15 | 15.25 | 15.25 | 15.5 |
| CB Neck to Waist | 15.125 | 15.375 | 15.625 | 15.875 | 16.25 | 16.5 | 16.75 | 17 | 15.75 | 15.75 |
| High Hip | 31 | 32.25 | 33.375 | 34.625 | 35.75 | 37.25 | 38.75 | 40.25 | 44 | 46 |
| Low Hip | 34 | 35.25 | 36.375 | 37.375 | 38.5 | 40 | 41.5 | 43 | 46 | 48 |
| Total Rise | 24.25 | 24.75 | 25.25 | 26 | 26.625 | 27.375 | 28.125 | 28.875 | 30.125 | 30.375 |
Please note: these forms are padded by hand so although we take great precaution to adhere to these measurements, they can occaisionally be off by some fractions.
What is included with this dress form?

The Global Standard Dress Form comes with the fully pinnable torso (in the size you have chosen), matching detachable shoulders, solid metal finial and rolling base (in the color you have chosen) and assembly instructions. The height of the form is adjustable through either the connector on the underside of the form or through the telescoping pole. The pedal and spring are only included for aesthetics and do not actually function. They can be removed if you wish. The base comes with four wheels/ castors - two of them can be locked in place which will prevent the form from rolling. The wheels can also easily be unscrewed and the base can be used without them.

What are the differences between the Original Standard and the Global Standard dress form series?

There are several important differences between our two series:

Measurements - both series use a different measurement system. The bust-to-hips ratio on the Original Series is more closely aligned (meaning that the hips measurement is very close to the bust measurement) to cover those with a straighter body. Our Global Standard series uses the Global Standard measurement chart and the bust-to-hips ratios are greater (where the hips are larger than the bust) to cover those with more curvier measurements. We also have more dress form sizes available in this latter series.
Torso Build - both series use a hard foam inner core to give the dress form its shape and allow it to retain this shape for a long period of time and throughout heavy use. This hard layer is fully pinnable - which is what makes our Fabulous Fit forms unique. Both series use an outer fabric cover - the Original Standard has a stretch cotton cover while the Global Standard employs durable canvas with industry grain lines (and has our logo/size printed). Both fabric choices are extremely durable. The Global Standard series adds a middle layer of soft foam (between the inner hard core and the outer canvas) for a more realistic body feel.
Shoulders vs. Arms - the Original Standard comes with two movable arms which can be pinned onto the form. The Global Standard comes with two shoulders which can be easily and securely connected or detached from the form using our specialized shoulder connector.
Finial/ Base Options - the Global Standard is designed to work with a wider range of bases and color options. The finials in this series are solid metal and match the color option of the base.

Changing measurements on the dress form via the Padding System

Changing measurements on the dress form is quite easily done through the optional addon Fabulous Fit Padding System. The padding system is series of specially body-contoured pads (17 in total) which you can add to the individual measurements of the form to increase some or all of its numbers. The kit also comes with a stretch cover which goes over the pads and the form to hold them in place. Many inches can easily be added through this system.

The stretch covers come in four sizes. Each represents the size range you would like the form to be after the pads are added. For instance, if you would like to transform some/all of the measurments on a size 4 form to a size 6 or 8, you would need the size Medium kit (which covers a range of 6-10). The cover of the size Small (0-4) would be too tight to fit a dress form with pads added to a size 6 or 8 range. The size Large cover (12-16) would be too loose to properly hold the pads in place.

The covers come in two color options - natural and black.

What about a size listed as out of stock or not listed at all?

We are contantly producing more of both series (Global and Original) so if anything runs out of stock, we should have it back up very soon. We are also in the process of creating additional sizes (for the Global Standard series). Please feel free to reach out to us at any time for updates.

Are there other choices/ accessories for the base?

Although the metal rolling bases offered with this form are the most popular and useful, we do have other base types which can be used (tabletop, flat square or tripod). We also carry pants and shoe display accessories for the Global Standard series. Please feel free to reach out to us with any questions about these.

Yes, we certainly accept returns. If the item you received is defective or the order was not filled out properly on our part please email info@fabulousfit.com within 30 days of receiving the items, we will replace it (or the defective part) at no cost to you.

Should you not be satisfied with the product or just have a change of heart, we will gladly accept the return and refund your order in its entirety, minus the shipping costs ($30/ dress form and $12/ padding system), provided that it is within 30 days of your having received the item.

Please Note: We cannot accept returns from international orders.

How and where to you ship?

We ship from our warehouse in Lakewood, New Jersey with UPS Ground. Shipping in continental United States on these forms is free.

We can also ship our forms all over the world with heavily discounted pricing (from list rates). Shipping quotes can be generated from the shopping cart page and during checkout.

How long will it take my order to ship and arrive?

We are usually able to ship out your order within 1-3 business days of placement. We ship from our warehouse in Lakewood, NJ (or through our factory in Vermont) which can take 1-5 days of actual shipping time to anywhere in continental United States. The UPS shipping times are illustrated in the map above.

I need the product pronto! Can I get it expedited?

There should be expedited shipping options shown at checkout. We do our best to also speed up the processing times for expedited orders.

Alternatively, if you are ok with the normal UPS Ground shipping option but would like request that we expedite the order processing, please contact us.

Do you accept purchase orders?

Yes, we accept purchase orders from schools, companies and other entities in good standing in the United States. We offer NET30 terms. Purchase orders can be sent to our email (info@fabulousfit.com). If you need a quote beforehand, please just reach out to us and we can have one prepared.

Do you offer student discounts?

Yup! We at Fabulous Fit are proud of our long history working with schools and education. In that regard, it is our honor to do what we can to help out our generation's future fashion leaders. Please see here for details.
Branch System Thickness
(close)
Bird Cage Size Compare
(close)